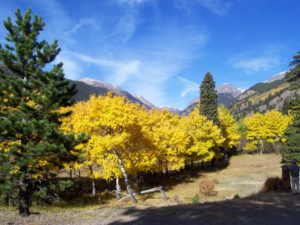 Estes Park is located in a high valley 35 miles West of Loveland on highway 34. From the South you enter the valley via the Peak-to-Peak Highway, highway 7. You can also enter from the East on highway 36 from Lyons and Longmont Colorado. Denver is 70 miles to the East of the park.
Considering how much Colorado has changed Estes Park has not, probably on purpose, kept up with the rush. Yes it's bigger and some say to big but from my perspective the size of the Village is still small.
It is primarily about 8 blocks long moving east to west along Elkhorn Ave the parks main street. There is also a three block section that stretches along Moraine Ave. Elkhorn Ave is the home of the unique shops and merchants, some I will say have been there over 50 years selling keepsakes and souvenirs so one can remember their trip.
Estes Park is most famous for being the entrance to Rocky Mountain National Park and the small village that greets over 3,000,000 visitors a year. And of course the park is home to the highest contagious highway in the US Trail Ridge Road. Rocky mountain National Park is also still has the original road built over the continental divide Fall River Road a one lane, one way narrow twisting road to the Alpine Visitors center at over 11, 796 feet. Thousands of visitors drive this road every July through about late September.
Fall River runs directly through the center of town and intersects with the Big Thompson River about in the center of town at Confluence Park. On occasion Fall River has flooded and caused much damage to the downtown area. You can read the history and see the pictures in a small shopping mall just off Elkhorn.
Around June of each year the elk virtually disappear from the low areas around Estes and go up and beyond tree line. They don't like the heat and insects either. But they will be back for the ELK Fest every Setember.
Spending time in Estes any time of year is fun but in the spring through the fall it has a special charm. There is plenty of lodging and restaurants to satisfy most ever taste. There is always something for the kids to do too.
However, when all is said and done it is the clearer and cleaner air you breath that does the trick. If you stop to think and feel it when you breath you can tell the difference. It is fresher. We are working on bottling it for export now.