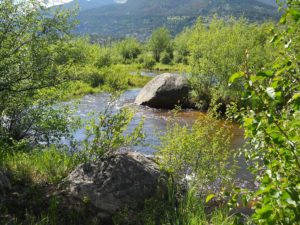 Northern Colorado is on of the most beautiful areas in all of Colorado. This area on the east side of the continental divide gives you living examples of everything from the high rocky's to the eastern great plains where antelope and buffalo still roam under cloudless blue skies.
Colorado has every season and temperatures from very hot to very cold but for the most part it has mild average temps and blue skies. The natives are always saying "in Colorado wait a minute and the weather will change" but I have noticed that many states and cities have that reputation too.
The northern colorado metro area is made up of the three largest cities of Fort Collins, Loveland and Greeley. Each of these cities had different foots and histories and they are surprisingly very different when they started but as time passed they became more alike but there are enough differences to make it interesting.
The major smaller towns are Berthoud, Wellington, Windsor, and the fast growing town of Johnstown. Smaller towns are Estes Park, at the entrance to Rocky Mountain National Park, Eaton, Livermore, and Ault. There are many more and the population of this marketing area which is 60 miles north of Denver numbers well over 500,000 people.